This site provides links to the websites of Big Ten Retirees Association member organizations. To access the most useful and most timely information about each member group and their institution, select from the links in the Directory, below.
To update Big Ten information: please send an email to umra@umich.edu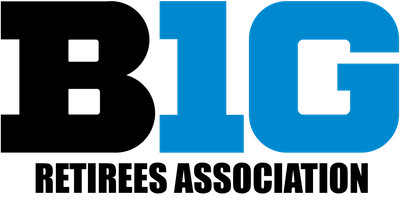 University of Illinois
Illinois State Universities Annuitants Association
Richard Winkel
SUAA-UIUC Chapter
364 Henry Administration Building, MC-346
506 S. Wright St.
Urbana IL. 61801-3689
Indiana University
Indiana University Retirees Association
4180 S. Grand Haven Drive, Bloomington, IN 47401-9611
812-824-7434
Josephine Daron
jdaron@indiana.edu
University of Iowa
University of Iowa Retirees Association
P.O. Box 1952, Iowa City, IA 52244-1952
Emil Rinderspacher
emil-rinderspacher@uiowa.edu
University of Michigan
University of Michigan Retirees Association
2005 Wolverine Tower, 3003 S. State Ann Arbor, MI 48109-1281
734-763-2387
James Bell, President
jimbell@umich.edu
Michigan State University
Michigan State University Retirees Association
Suite 22, Nisbet Building
1407 S. Harrison Rd.
East Lansing, MI 48823-5239
517-353-7896
Angela Brown, President
University of Minnesota
200 Oak Street SE, Room 264, Suite 250
Minneapolis, MN, 55455-200
612-626-4403
The Ohio State University
Ohio State Retirees Association


Meg Teaford, President
Purdue University
Purdue University Retirees Association
John Trott, President
2020 – University of Iowa
2021 – Indiana University
2022 – Northwestern University
2023 – University of Wisconsin
2024 – The Ohio State University
2025 – University of Michigan
2026 – University of Minnesota
2027 – Michigan State University
2028 – University of Nebraska
2029 – Purdue University
2030 – Pennsylvania State University
2031 – University of Illinois
Big Ten Retirees Association By-Laws
ARTICLE I NAME

The name of the organization is the Big Ten Retirees Association.
ARTICLE II PURPOSE
The purpose of this Association is to enhance individual member retirees associations through a process that includes:
A. A yearly conference that is rotated among the member institutions;
B. Sharing newsletters; and
C. Exchanging information that includes but not limited to: Universities rosters, directories, etc.; Members benefits; University profiles.
ARTICLE III MEMBERS
Membership is open to retiree associations of Big Ten Universities. Each member will have two voting representatives who are members in good standing in their association. Each representative will have voting privileges. Other representatives may attend conferences and business meetings.
ARTICLE IV GOVERNANCE
Section 1 Executive Board
The Executive Board is composed of the "Chair", "Chair-Elect", and the " Immediate-Past-Chair". The "Chair" is the host university for the current year's conference; the "Chair-Elect" is next years host university, and; "the Immediate-Past-Chair" is last year's host university. The duties of the Board are:
1. To serve as an advisory body to the "Chair" in planning the annual conference.
2. To keep records of the annual conference and submit an annual report.
3. To review the By-laws of the Association and edit or add By-laws as needed.
4. Develop the agenda for the annual business meeting to be held at the annual conference.
Section 2 Actions of the Board
1. Propose changes or additions of By-laws to the membership.
2. Any action of the Board that is challenged in writing by the representatives of the member institutions must either be rescinded by the Board or submitted to the members for a vote.
3. The three Board members must have consensus on all issues.
Section 3 Chair
The "Chair" presides over all meetings. The "Chair" is the designated representative of the host institution. The host institution is the member institution that is in charge of the annual conference.
Section 4 Terms of Office
Each position is one (1) year and is rotated to the next university according to a rotation schedule agreed upon by the Association members.
ARTICLE V MEETINGS
There shall be an annual conference to be planned and hosted by the host institution. There shall be an annual business meeting to be held in conjunction with the annual conference. The members present constitute a quorum.